I've decided to start doing this new tag-like post (is that a good way to describe it? I'm still unsure) that will be all about the books on my to-buy wish list! I plan to do it every few weeks as my wish list changes 🙂
The Chapter's website is a dangerous place for me. The prices are cheaper than in store and shipping is often free (and always free if you send it to a store, and theres one down the street from me!). Instead of buying books right away, i've started putting them into my wish list instead.
I also mentioned a few times on my instagram a few times that I'm trying to not buy any more books until I move in September. I still have a few books I own that I want to get through, and I won't be able to move many books, if any at all.
Because of this, my wish list is full of books I am DYING to read right now, and those books are:
SUMMER BIRD BLUE by Akemi Dawn Bowman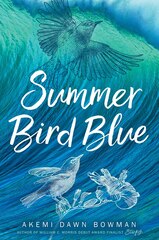 Rumi Seto spends a lot of time worrying she doesn't have the answers to everything. What to eat, where to go, whom to love. But there is one thing she is absolutely sure of—she wants to spend the rest of her life writing music with her younger sister, Lea.

Then Lea dies in a car accident, and her mother sends her away to live with her aunt in Hawaii while she deals with her own grief. Now thousands of miles from home, Rumi struggles to navigate the loss of her sister, being abandoned by her mother, and the absence of music in her life. With the help of the "boys next door"—a teenage surfer named Kai, who smiles too much and doesn't take anything seriously, and an eighty-year-old named George Watanabe, who succumbed to his own grief years ago—Rumi attempts to find her way back to her music, to write the song she and Lea never had the chance to finish.
A few weeks ago I asked for YA recs with ace characters and this was one of those recs! I've seen this book around online a little bit, and I think this cover is stunning! Can't wait to get around to reading it.
HER ROYAL HIGHNESS by Rachel Hawkins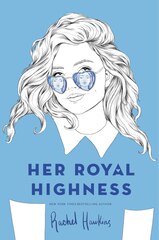 Millie Quint is devastated when she discovers that her sort-of-best friend/sort-of-girlfriend has been kissing someone else. And because Millie cannot stand the thought of confronting her ex every day, she decides to apply for scholarships to boarding schools . . . the farther from Houston the better.

Millie can't believe her luck when she's accepted into one of the world's most exclusive schools, located in the rolling highlands of Scotland. Everything about Scotland is different: the country is misty and green; the school is gorgeous, and the students think Americans are cute.

The only problem: Mille's roommate Flora is a total princess.

She's also an actual princess. Of Scotland.

At first, the girls can barely stand each other–Flora is both high-class and high-key–but before Millie knows it, she has another sort-of-best-friend/sort-of-girlfriend. Even though Princess Flora could be a new chapter in her love life, Millie knows the chances of happily ever afters are slim . . . after all, real life isn't a fairy tale . . . or is it?
I saw a lot of hype for this when it was soon to be published (and I was also very excited!), and know some people who really enjoyed it, but I've seen very mixed reviews about it having a really great synopsis, but not being written very well. Regardless, I am still looking forward to reading this! I also love this style of cover so i'm very excited about having a physical copy of this one.
LET'S TALK ABOUT LOVE by Claire Kann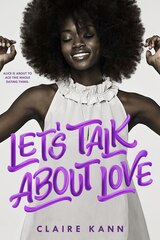 Alice had her whole summer planned. Non-stop all-you-can-eat buffets while marathoning her favorite TV shows (best friends totally included) with the smallest dash of adulting–working at the library to pay her share of the rent. The only thing missing from her perfect plan? Her girlfriend (who ended things when Alice confessed she's asexual). Alice is done with dating–no thank you, do not pass go, stick a fork in her, done.

But then Alice meets Takumi and she can't stop thinking about him or the rom com-grade romance feels she did not ask for (uncertainty, butterflies, and swoons, oh my!).

When her blissful summer takes an unexpected turn, and Takumi becomes her knight with a shiny library employee badge (close enough), Alice has to decide if she's willing to risk their friendship for a love that might not be reciprocated—or understood.
This was another book I had recommended when I asked for books with ace rep! I've seen this in stores a lot recently and it's been taking all my willpower to not buy it 😦
WILDER GIRLS by Rory Power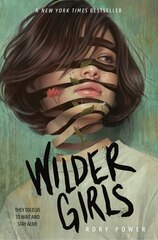 It's been eighteen months since the Raxter School for Girls was put under quarantine. Since the Tox hit and pulled Hetty's life out from under her.

It started slow. First the teachers died one by one. Then it began to infect the students, turning their bodies strange and foreign. Now, cut off from the rest of the world and left to fend for themselves on their island home, the girls don't dare wander outside the school's fence, where the Tox has made the woods wild and dangerous. They wait for the cure they were promised as the Tox seeps into everything.

But when Byatt goes missing, Hetty will do anything to find her, even if it means breaking quarantine and braving the horrors that lie beyond the fence. And when she does, Hetty learns that there's more to their story, to their life at Raxter, than she could have ever thought true.
I've been hearing about this book since ARCs went out and I am very much looking forward to reading it. I know & follow some people who LOVED this one so I am getting more excited for it every time I see a new review! The price on Chapters online being $10 cheaper than regular price is making it very difficult to stop myself from buying this.
HOW TO MAKE A WISH by Ashley Herring Blake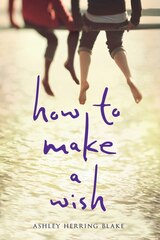 All seventeen year-old Grace Glasser wants is her own life. A normal life in which she sleeps in the same bed for longer than three months and doesn't have to scrounge for spare change to make sure the electric bill is paid. Emotionally trapped by her unreliable mother, Maggie, and the tiny cape on which she lives, she focuses on her best friend, her upcoming audition for a top music school in New York, and surviving Maggie's latest boyfriend—who happens to be Grace's own ex-boyfriend's father.

Her attempts to lay low until she graduates are disrupted when she meets Eva, a girl with her own share of ghosts she's trying to outrun. Grief-stricken and lonely, Eva pulls Grace into midnight adventures and feelings Grace never planned on. When Eva tells Grace she likes girls, both of their worlds open up. But, united by loss, Eva also shares a connection with Maggie. As Grace's mother spirals downward, both girls must figure out how to love and how to move on
This is a book I've been wanting to buy for what feels like decades. I often see it in the store but never end up getting it for some reason. I finally went on goodreads to check the reviews from the people I follow and they all loved it!! I'm even more interested in checking this one out now!
---
And that's all for now!
Let me know if you've read any of these, and what you thought of them!
xo wren