Thanks so much to Harper Collins Canada for sending over an ARC of this book for me to read + review!
✧⋄⋆⋅⋆⋄✧⋄⋆⋅⋆⋄DETAILS⋄⋆⋅⋆⋄✧⋄⋆⋅⋆⋄✧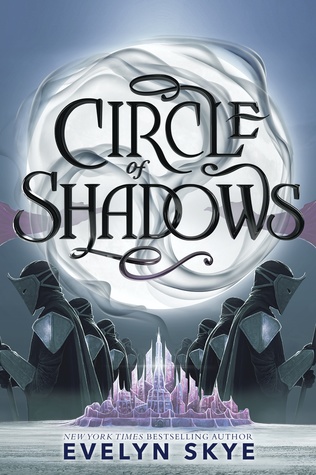 Title: Circle of Shadows
Author: Evelyn Skye
Pages: 464
Genres: Young Adult, Fantasy
Release Date: January 22, 2019
✧⋄⋆⋅⋆⋄✧⋄⋆⋅⋆⋄SYNPOSIS⋄⋆⋅⋆⋄✧⋄⋆⋅⋆⋄✧
Sora can move as silently as a ghost and hurl throwing stars with lethal accuracy. Her gemina, Daemon, can win any physical fight blindfolded and with an arm tied around his back. They are apprentice warriors of the Society of Taigas—marked by the gods to be trained in magic and the fighting arts to protect the kingdom of Kichona.

As their graduation approaches, Sora and Daemon look forward to proving themselves worthy of belonging in the elite group—but in a kingdom free of violence since the Blood Rift Rebellion many years ago, it's been difficult to make their mark.

So when Sora and Daemon encounter a strange camp of mysterious soldiers while on a standard scouting mission, they decide the only thing to do to help their kingdom is to infiltrate the group. Taking this risk will change Sora's life forever—and lead her on a mission of deception that may fool everyone she's ever loved.

Love, spies, and adventure abound as Sora and Daemon unravel a complex web of magic and secrets that might tear them—and the entire kingdom—apart forever.
My Rating: 2.5/5 Stars
✧⋄⋆⋅⋆⋄✧⋄⋆⋅⋆⋄Review⋄⋆⋅⋆⋄✧⋄⋆⋅⋆⋄✧
Circle of Shadows has some really great moments throughout it that could have made for a unique and interesting fantasy novel. Unfortunately, the exposition surrounding those moments are bogged down with stale dialogue and lengthy over-description.
At 467 pages long, I expected a quicker paced book. To me, 450-500 pages is very long, and as someone who prefers fantasy books to be shorter than longer (with some exceptions of course), Circle of Shadows seems like it could easily have been cut down to create a more concise and exciting story. As I started the book I noticed it was taking a while to pick up and build the conflict that the characters would have to figure out, because of this, I decided to make a note of when I felt I was starting to build interest in the story and how it will unfold. The page I wrote down was 150. It took 150 pages for me to gain interest in the story and characters and to feel like I understood where the story was going.
I know I just said it took 150 pages for me to gain interest in the characters but in reality, I don't know if I ever really did connect with the characters at all. The main reason for this was the dialogue. I hardly notice dialogue as something that affects my enjoyment of a book, but I could not get past the dialogue in Circle of Shadows. Something about it just completely took me out of the diegesis of the story. My thoughts are because I couldn't feel/recognize the personality of the characters come through in their dialogue, as well as not being able to connect with the characters much at all. My discussion of the characters mainly refers to the two main characters, Sora and Daemon. Although I did like Sora on her own, I got really frustrated with the interactions between Daemon and Sora.
Moving on from the main characters though, I really thought the villain was interesting. The whole conflict and world building together gave me a bit of a fire nation/avatar type of vibe (which I really loved).
I did think the world building as a whole was well done. The antagonist had interesting powers and a motive that made sense in the context of the story (which I find the motive for an antagonist can often be forced or random, not the case here).
A random bit I wrote down in my notes that I thought I would include because I just find it funny that I wrote it down: 'every time they were eavesdropping or spying on an enemy, those enemies just happened to explain their full plans.' This just brings up my thought that I think I'm developing a new pet peeve for fantasy books: perfectly timed coincidences / contrived plot devices that fix situations for the characters exactly when needed. I wouldn't go so far as to say this situation is one I noticed is enough for me to be critical on the story as a whole though, I didn't notice this happening in many other places after the beginning.
Lastly, the POV switches got a little frustrating. There was no rhyme or reason to who the POV would switch to and when. Generally, the chapters were very short, and would sometimes switch POVs each chapter and sometimes wouldn't. I usually find multiple POVs hard to keep track, and thankfully that wasn't the case here, but it would be great to have clearly marked POV switches, or a clearer pattern in which the switched follow.
Overall: I expected a fast-paced story, but I actually experienced a very slow, very long book that could really do with some trimming.
I realize I was quite critical here, but I actually do believe some will enjoy this. If you like a slower paced fantasy (or maybe you'll find it quicker paced than I did), I'd say to give it a shot if the synopsis sounds interesting to you!
thank you for reading!!
xo wren